A Letter from AUW (Asian University for Women)
EDUCATE • INSPIRE • EMPOWER
성주재단은 2009년 재단이 설립된 이래, 어려운 환경으로 인해 잠재력을 발휘하기 힘든 여학생들에게 장학금을 지급하여 자신의 능력 개발과 공동체와 국가의 지속 가능한 발전에 기여할 수 있는 창의적 글로벌 리더로 성장할 수 있도록 도움을 주고 있습니다. 성주재단이 2019년부터 후원하고 있는 Asian University for Women(AUW)은 경제적으로 취약한 동남아시아의 여성들이 대학 교육을 통해서 자신의 잠재력을 개발하여 자신 및 사회, 국가, 경제 발전을 위한 공동체의 리더가 될 수 있도록 돕는 교육기관입니다. 앞으로도 성주재단은 국내 취약계층 여성 지원에 머무르지 않고, 도움을 필요로 하는 세계 여성들의 목소리에 귀기울여 나갈 것입니다.
"아프가니스탄 졸업생의 소식을 담은 AUW 뉴스레터를 아래 링크를 통해 만나 보시기 바랍니다."
이들은 아프가니스탄 내전으로 인해 삶의 터전을 잃고 교육기회마저 박탈당한 위기의 아프가니스탄 여성들을 위해 AUW와 함께 도움의 발판을 마련하고자 노력하고 있습니다.
https://mailchi.mp/asian-university/on-this-nowruz-remember-afghanistan?e=8bfc58ba6f
https://asian-university.org/impact/news-media/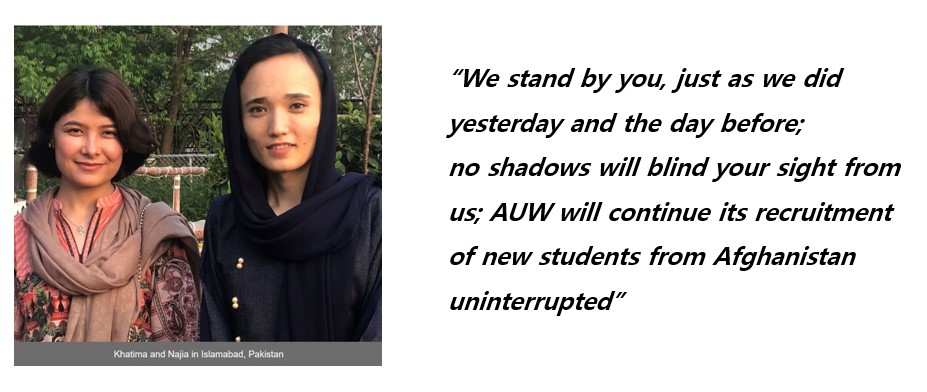 Sungjoo Foundation Supporting AUW
Since Sungjoo Foundation was established in 2009, the foundation has provided access to information and knowledge necessary for women's economic activities and social participation. We ensure that women secure social, economic and political positions from which they can engage in making various decisions and exert their influence, while responding to the changing circumstances of future society.
In accordance with this foundation's belief, we help talented yet underprivileged female students improve their lives in terms of financial, social and emotional capabilities. we offer opportunities to impoverished women in Southeast Asia to receive higher education, so that their future career could lead to contribute to the development of their society, country and economy. Further, the scholarship is to encourage them to become creative leaders and contribute to the sustainable development of their own community and country.